LAKOTA CINCY SHOCK BASKETBALL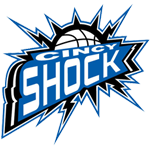 The Lakota Family YMCA is happy to host the Lakota Cincy Shock basketball programs. The Shock program is an excellent choice for the advanced basketball player looking for the challenge of playing against the area's best competition. The program houses select teams for Boys and Girls.
Celebrating our 10th year of select Winter Basketball in the Lakota community. Ten years of success thanks to fundamentally focused coaches, high-level trainers, outstanding families and a direct pipeline to Spring AAU programs.
Tryout Information - Winter 2019
Location: Lakota Family YMCA Gymnasium, 6703 Yankee Road, Liberty Township, OH 45044
Time:
| | |
| --- | --- |
| Girls 1st - 3rd Grade | 10:00am - 10:50am |
| Girls 4th - 6th Grade | 11:00am - 11:50am |
| Boys 1st - 2nd Grade | 12:00pm - 12:50pm |
| Boys 3rd - 4th Grade | 1:00pm - 1:50pm |
| Boys 5th - 6th Grade | 2:00pm - 3:00pm |

Program Details:
Most of our 3rd - 6th Grade teams play 20 game select level Landmark or CPYBL leagues. Each of these teams plays in league tournaments.
Practice at Lakota Area gyms 2 times per week. Some teams more.
Shock Coaches have a direct line of instruction with local Lakota High School Coaches. Correct fundamental development critical. Preparing our players for Junior High and High School Basketball.
Teams/Coaches have the choice of 1 external tournament or training session.
TEAM FEES: *payable after teams are formed. (Payable by cash/check/card to Lakota Family YMCA)
Lakota YMCA Members: $140
Non-members: $220
Instructional and Rec Level Teams (2nd grade and occasionally 3rd grade)
Practice at Lakota Area Gyms 1 or 2 times per week, Coaches discretion.
Teams at recreational levels will play 10 games, CPYBL league schedule. If year-end tournaments are available, they will participate.
Strong emphasis on fundamental development and building a love for the game.
TEAM FEES: *payable after teams are formed. (Paid to Cincy Shock Basketball)
Lakota Family YMCA Members & Non-Members: $145 paid to Cincy Shock Basketball
If you have additional questions please visit www.cincyshock.com. If you have further questions about Lakota Shock Winter Basketball, please contact: Chad Rupp, rupptide@msn.com