MILITARY

YMCA Membership Initiatives for Military Families
The Armed Services YMCA is proud to work with the Department of Defense to offer the Military Outreach Initiative. The Military Outreach Initiative offers gym memberships and respite child care services for qualified military members and families nationwide. Through this initiative, military members and families receive access to vital resources that promote youth development, healthy living, and social responsibility.
The initiative has provided more than 87,000 YMCA memberships and nearly 43,000 private fitness memberships to military families
More than 164,000 military children have benefited from this initiative
More than 1,700 YMCAs and nearly 2,500 private fitness facilities support this initiative
For issues or concerns regarding the DoD Military Outreach Initiative please call Don Kandel, Chief Financial & Administration Officer at (703) 455-3986 x208.
About the YMCA Outreach Initiative
YMCA of the USA, the Armed Services YMCA and the Department of Defense have launched the YMCA Military Outreach Initiative to address the needs of families of deployed military personnel who live far from a military installation and require access to child development, family strengthening, and health and well-being programming.
The YMCA Military Outreach Initiative leverages the Y movement's national scale and mission to engage families facing the hardship and uncertainty of military deployment. The nation's 2,686 Ys have the unique capacity to respond to the needs of this widely dispersed population through supportive, community-based programs that foster a healthy spirit, mind, and body.
Guidelines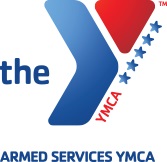 The Department of Defense will underwrite memberships at participating Ys for an initial six-month period for each eligible family and service member. Membership renewals in subsequent six-month intervals (up to 12 or 18 months depending on eligibility) will be funded based on a military family's or service member's ability to meet the participation requirement of eight visits to a Y each month.
Getting Started
Applications Forms: (Please note that application forms have changed.)