SWIM TEST PROCEDURE AND WATER SLIDE REGULATIONS

In order to continue to offer the safest Lakota Family YMCA experience, the following Pool and Water Slide Regulations must be enforced.
SWIM POLICY:
Youth age 12 and under must wear a swim band while in the facility and pools
Appropriate colored Bands will be placed on your child at the Welcome Center or Pool Desk. This information is based on the testing information provided by the Aquatic's Department.
SWIM TEST PROCEDURE:
Swim Tests are performed at the indoor pool. Starting May 1st every year. No appointments necessary. It is recommended you test as soon as possible, so you'll be ready for the outdoor pool. EVERYONE will test if they are 12 and under EVERY YEAR.
Jump feet first into the deep end of the pool at the starting block edge
Surface and tread water for 30 seconds
Swim over arm freestyle or breaststroke 25 yards to the other end of the pool
Goggles may be worn during test (no face mask permitted)
NOTE: It is the judgment of the lifeguard, managers, and directors whether a person passes a swim test. A swim test may be taken up to twice a day if a child does not pass the first time. Swim tests will be conducted annually beginning May 1st. ALL children under the age of 12 must retake a swim test every year to qualify.
No bands will be issued for children ages 0-24 months
RED BANDS:
Ages 12 and under who are non-swimmers
Children 6 and under must have a parent in the water within arm's reach.
Ages 7 to 12 must stay in the shallow water while parent supervises on the deck or in water.
GREEN BANDS:
Will be issued upon passing the swim test.
Ages 9 and under still must be accompanied by a parent in any of the pool areas
Ages 10 and up can swim without parent in any of the pool areas
SLIDE RULES: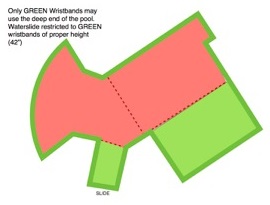 Youth Swimmer (under age 12) must have passed the swim test and received a GREEN wrist band.
Must be 42 inches tall to ride
Must lie down on back, feet first and facing forward
NO FLOATS OR VEST permitted on the slide
NO goggles and NO SUNGLASSES
NO zippers or buttons on clothing
One person at a time, parents MAY NOT hold their children
Swimmer may not go down the slide until instructed to do so
No one may catch a person going down the slide
A person may enter the catch pool to assist a swimmer after they have exited the slide.
NOTE: The pool rules may not be all inclusive. For your safety and the safety of others please obey all verbal instructions from the YMCA staff.