SWIM LESSON INFORMATION AND SCHEDULE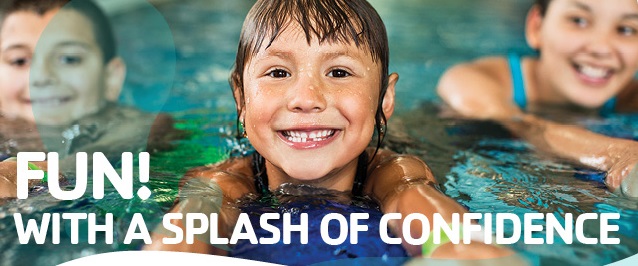 Group swim lessons
Fall 1 Swim Lessons - 9/11/2023 - 10/21/2023 (6-week session)

Pre-session evaluations will be held on Tuesday, 8/22/2023 and Thursday, 8/24/2023 in the indoor pool @ 5:30-7:30pm
YMCA Member registration - Monday, 8/28/2023; Member rate = $60.00
Non-Member registration - Wednesday, 8/30/2023; Non-Member rate = $108.00

Fall 2 Swim Lessons - 11/6/2023-12/16/2023 *No Lessons 11/20/2023-11/25/2023

Pre-Sessio evaluations will be held Tuesday, 10/24/2023 and Thursday, 10/26/2023 from 5:30p-7:00p. Please make sure to bring your swim suit, towel and goggles.
Registrations:

Laktoa YMCA Members: Friday, 10/27/2023

Aquababies-Level 6: $50

(5 week session, 30 minutes per class)

Adult Lessons: $75

(5 week session, 45 minutes per class)

Lakota YMCA Non-Members: Monday, 10/30/2023

Aquababies-Level 6: $90

(5 week session, 30 minutes per class)

Adult Lessons: $110

(5 week session, 45 minutes per class)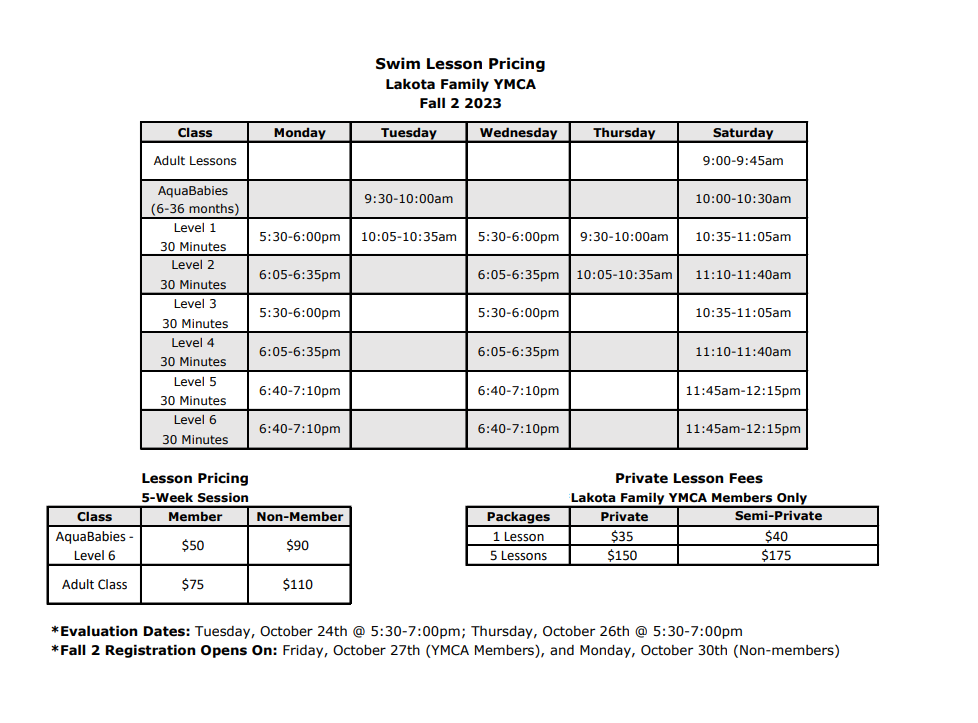 SWIM LESSON IMPORTANT INFORMATION
Make-Up Lesson Policy

If you are not able to attend your lesson on any given day during the session, please contact Alexandra Wells at alex.wells@lakotaymca.com.
Make-up lessons must be approved by the Aquatics Director or Pool Manager and are never guaranteed by the Lakota Family YMCA aquatics staff.

When You Arrive....

Please check-in at the attendance desk when you arrive on the Lakota Family YMCA indoor pool deck.
Your child's instructor will call the class to the proper location for the day's lesson when it's time to begin the lesson.
There is a 5-minute interlude between lessons to allow the instructors to complete progress forms and to address questions or concerns with parents. Please be patient while waiting for your lesson to be called.
There is a reason why the YMCA is referred to as America's Favorite Swim Instructor. In YMCA classes, you or your child will be taught in a caring way how to swim. In addition, you will also learn about safety, rescue skills, and other water activities you can enjoy for a lifetime. A variety of class times and types are available to meet your family's needs.
Class size is determined considering safety factors and participants' ages, making sure classes don't get too big to be comfortable. Private and semi-private lessons are also available to our members.
Classes may be canceled due to lack of enrollment. A minimum of three participants is required for classes to be held.
Advanced registration with full payment is required for programs. The YMCA is a member-driven organization. Members have priority registration over non-member registrations.
---
Swim Lesson Level Flow Chart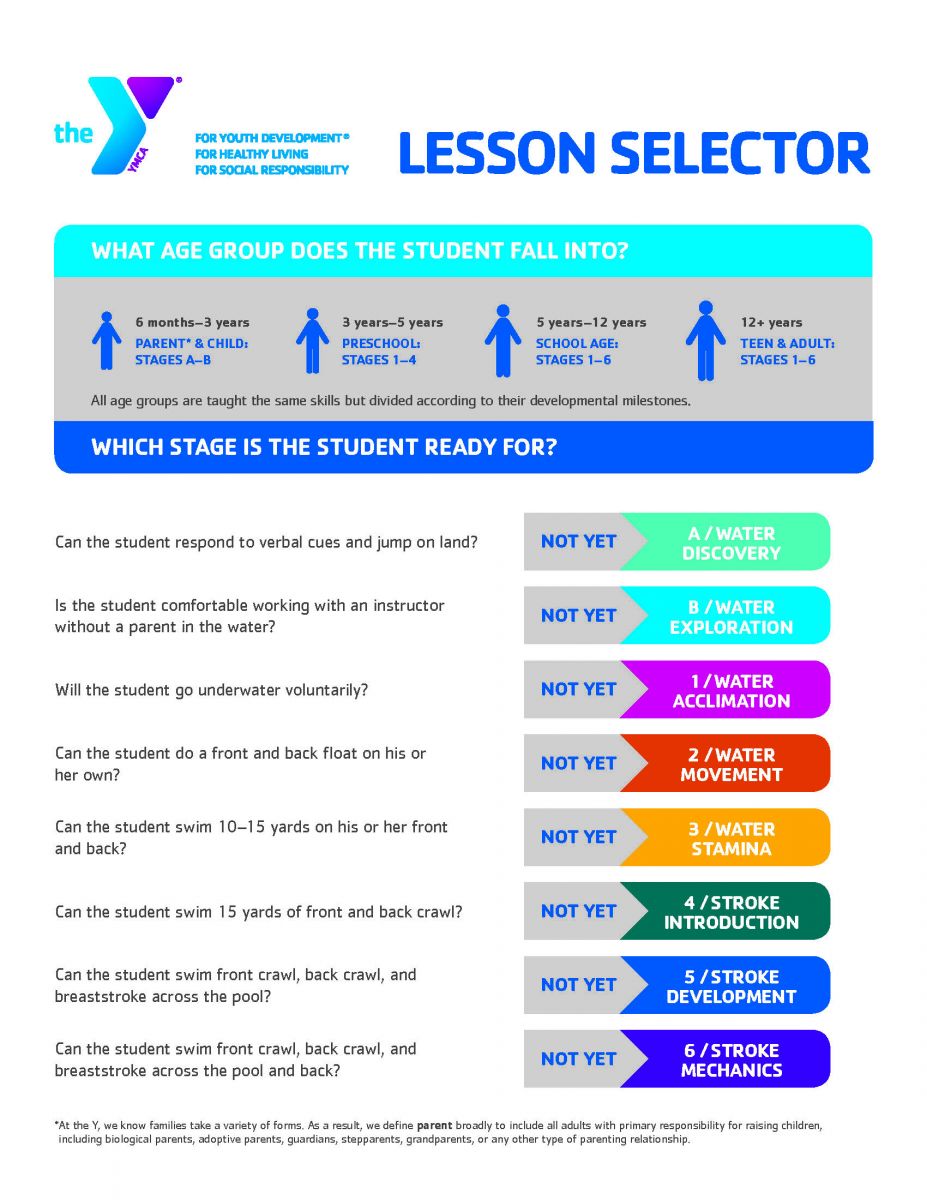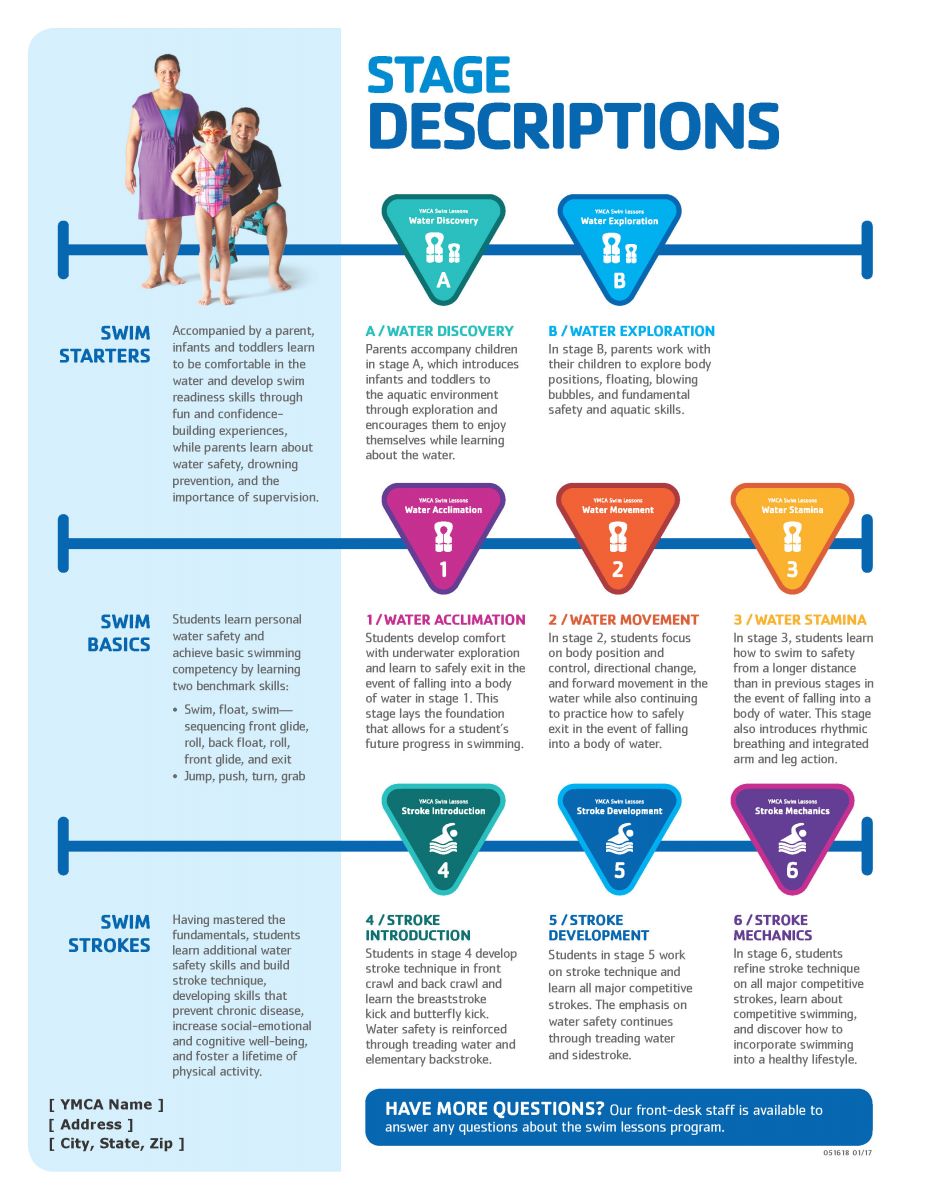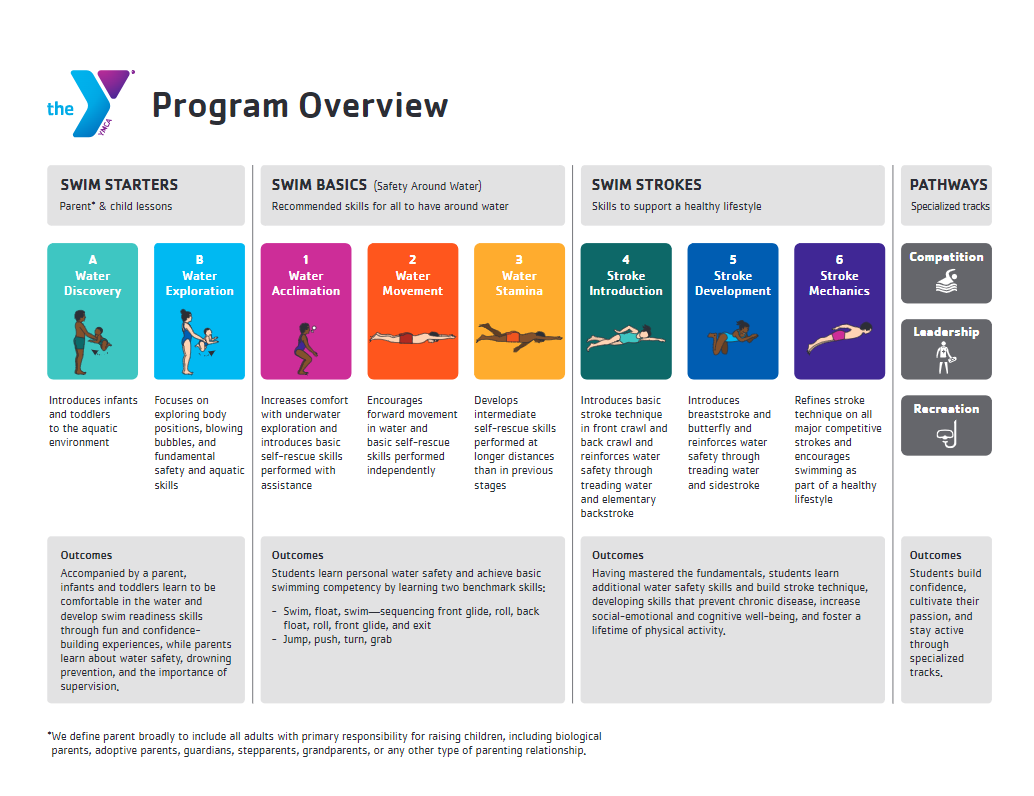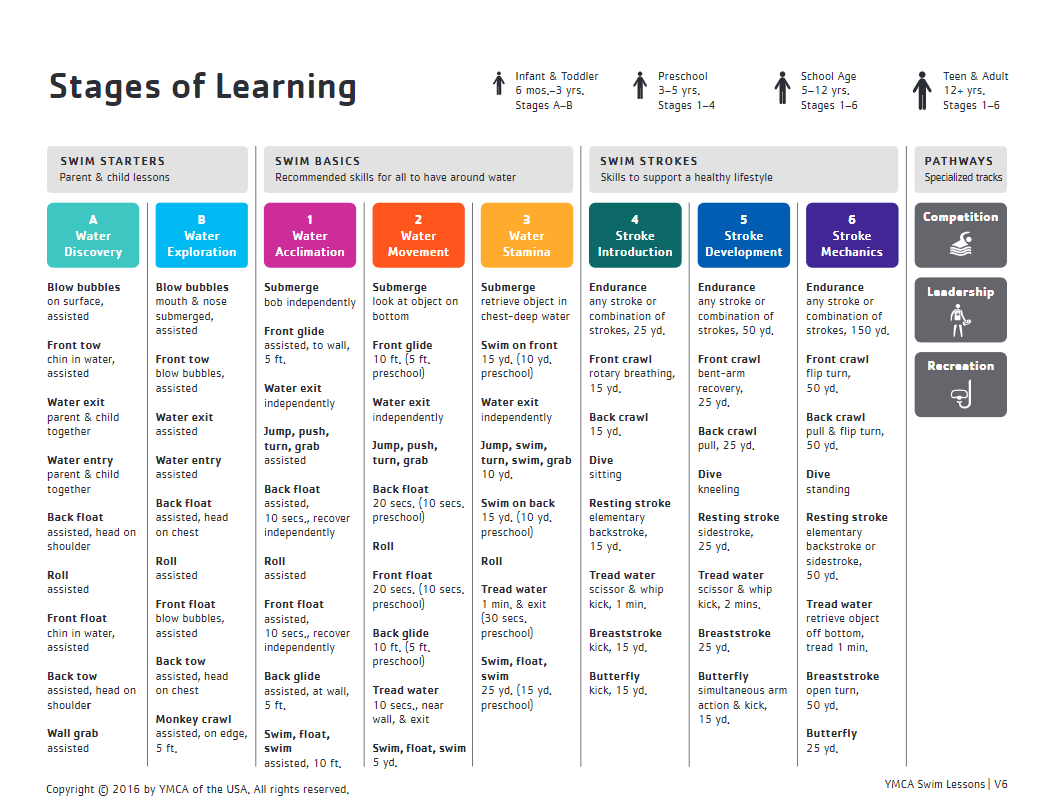 Sign up online using the ONLINE PORTAL.

Members and Program Participants now have access to their Lakota Family YMCA account online. Once you are registered for online access to the Online Portal, you can register for most programs and events, pay off balances, email, view account history and print receipts.
Instructions:
To be able to sign up for the Online Portal, it is necessary to call the YMCA's Welcome Center (513) 779-3917 to be placed in our system. Make certain that ALL family members connected to your membership are in the system.
NOTE: Online Registration is your best way to get into a class. Registration starts at 8:00 a.m. on Registration Day. Walking in on Registration Day is your second best option. Calling in to be set up on Registration Day puts you in a call cue making it EXTREMELY difficult for you to get through and could prevent you from getting into a class.
NOTE: If you've never registered online (using the ONLINE PORTAL), call the Welcome Center for help at (513) 779-3917.

Avoid making duplicate online accounts. Always use the same names, and email address you've listed with the Lakota YMCA. If you need help or have registration questions, call the Welcome Center at (513) 779-3917.
Refund Policy
A full refund or credit will be issued to participants if the YMCA cancels a program. Credits will not be converted to a cash refund. The original participant must use the credit.
If you have any questions or would like a FREE evaluation please contact: Ben.Carnahan@LakotaYMCA.com