W.O.W. (WOMEN ON WEIGHTS)
What is W.O.W.?
Women On Weights (W.O.W.) is an intermediate/advanced strength training class designed specifically for women. The goal is to teach women the proper design and structure of a sound strength training program. During the six-week session proper exercise form, selection, and movement patterns will be stressed to help aid in strength gains and body composition changes. The class will meet twice a week and is taught by a certified personal trainer.
Break the Stereo Type!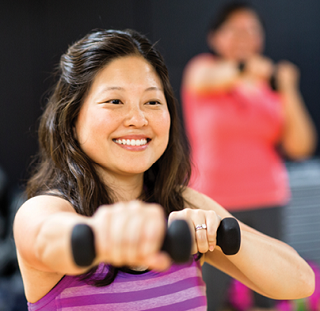 For many years a myth has been perpetuated that women shouldn't train with heavyweights. This myth has many different reasons behind its existence. Learn the truth about how proper strength training can help take you to the next level in your fitness goals.
Registration opens two weeks before the Session Start Date
Spring: April 12-May 20
Summer 1: June 7 - July 15
Summer 2: July 26 - September 2
Fall 1: September 13 - October 21
Fall 2: November 1 - December 16
No Class Week of November 22
Monday and Wednesday 10:00am - 11:00am
OR
Tuesday and Thursday 6:00pm—7:00pm
Registration opens two weeks prior to the session.
Member/SilverSneakers® Fee: $84
Non-member Fee: $144
Location: Group Fitness Room (upstairs above Fitness Center)
For any questions you may have, please contact, Fitness/Wellness Director at Taylor.Barreto@LakotaYMCA.com